The Order Process
What happens when you order Trailer Jetter Equipment from HotJet USA?
CHOOSE YOUR TRAILER JETTER EQUIPMENT SYSTEM

Color of Trailer (Standard colors: red, black, blue & yellow; Additional colors are optional. Contact Us for details!)
Choice of Power Unit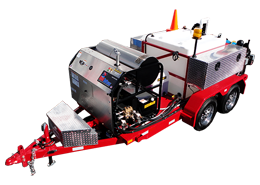 The HotJet II® Trailer Jetter is BY FAR our MOST POPULAR!
Once these 2 are covered – then:
SHIPPING
We will give you progress reports (with pictures)
Then we will load the trailer jetter on the truck and call when it's departing our manufacturing facility
More Shipping Info here