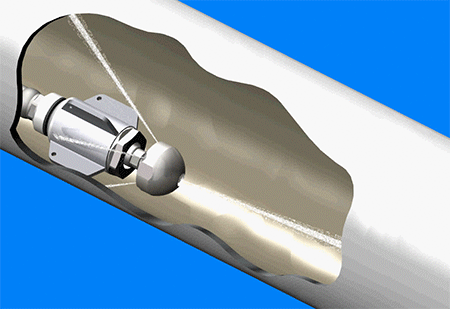 Some popular sewer jetting applications include de-icing, thawing frozen drain lines, Hydro Excavating, degreasing restaurant lines, clearing residential sewer lines, root cutting, removal of mineral deposits and corrosion, descaling cast iron pipes, industrial pipe and tube cleaning, and locating damaged areas within drain lines. Another possibility is cable pulling for voice and data communications cable and hydro excavation.
Optimum cleaning pressures vary from different sizes and types of lines and what is causing the blockage – whether they are plastic clay, tile, concrete, lead, etc. Smaller lines such as those in residential laundry rooms or kitchens don't need as much water, you can use the smaller portable hose reel with the 1/4″ line. Larger lines, such as the four inch lateral lines from residences to the main line in the street, normally need 4 – 5 GPM @ 3000 – 4000 PSI. Commercial lines (six to twelve inch diameter) typically need bigger jetter trailers using 6 – 15 GPM at 2000 – 4000 PSI to do the job.
The goal of drain cleaning is to get whatever is obstructing the line into a solution so that it can be flushed through the pipe. If cleaning restaurant lines, especially restaurants with heavy grease build up, we recommend using higher pressure with lower flow rates to give a better scouring action on the pipe like our 8.5 GPM @ 3,600 PSI – preferably using hot water. Higher volume is needed to flush the solution down the pipe in some large commercial plants like packing plants, food plants, etc. Combining hot water with our "
3in1 Total-C
" drain additive, 
you can clean nearly any drain!
For residential drain line cleaning, we offer hose reel carts and foot pedal controls which are helpful accessories for portable jetters. Foot pedals allow you to regulate pressure while keeping both hands free to feed or pull the hose. When performing "remote jetting", such as a residential bathroom, we use non marking hose to help protect the customer's property while jetting. A sump pump or vacuum may also be needed for temporary wash water reclamation until you can effectively clear the line and get water moving through the pipe again.
Sewer and drain cleaning is one of the most important businesses in the country today, with an unlimited market including commercial, residential and industrial services. The following is a partial list of the markets for drain and sewer jetting services.
| | |
| --- | --- |
| Apartment complexes | Banquet facilities |
| Boys clubs | Condo Associations |
| Car dealers | Clothing stores |
| Hospitals | Factories |
| Fast food chains | Fire departments |
| Funeral homes | Garages |
| Gym clubs | Hotels & motels |
| Kennels | Convenience Stores |
| Office buildings | Physician offices |
| Repair shops | Residences |
| Resorts | Restaurants |
| Schools | Service and private clubs |
| Service stations | Stores (all types) |
| Strip shopping centers | Theaters |
| Veterinarian offices | Assisted Living Centers |
| College fraternities & sororities | |
---
HotJet USA manufactures sewer jetter trailers and trailer mounted drain line jetters and for over 25 years, we've specialized in hydro jetters and diesel sewer jetters. We also engineer hot water sewer jetter systems and have a new line of cart drain jetters and propane jetters. Call today for expert sewer jetter equipment advice!