While incidents and injuries are rare with the operation of jetting equipment, it's imperative that all operators read the safety and operating instructions provided by the jetting equipment manufacturer before using any high pressure water blasting equipment. Drain and sewer cleaning can be dangerous if proper procedures are not followed and appropriate safety gear is not utilized. HotJet USA highly recommends that every equipment operator participate in hands on safety and operational training for the equipment that they will be operating.
Before operating, read the owner's manual and follow all safety precautions. It's essential to familiarize operators with the operation – start, stop, valves on / off, etc. prior to usage on a job site.
Caution: Pressurized water can cause serious bodily harm. Always follow the manufacturer's recommended operating procedures for all jetting pumps, nozzles, and accessories.
Before each use, carefully inspect the nozzle body for damage such as cracks, worn threads, and obstructed orifices. Replace damaged or worn nozzles immediately.
Thread sealant is generally recommended on NPT threaded nozzles.
During manual sewer, drain, pipe, or tube cleaning operations, the nozzle must be inserted into the line before pressurizing the system. Be certain the nozzle is inserted far enough into the line that any backward facing jets do not pose a hazard to the operator. Always depressurize the system before removing the nozzle. Also, before going on a job, the contractor should ensure that all hoses are marked with bright electrical tape or spray paint from the last 15′ in 3 – 5′ sections from the end of the spray nozzle. This provides less chance of pulling the nozzle out of the pipe with full pressure in the lines. Once at the job site and the jetting access point determined, get ready to start jetting. Test the unit's supply hose to ensure adequate water supply.
SEWER JETTING SAFETY
Sewer jetting is a serious business that can result in serious injury or death when proper safety precautions are not followed. Awareness of common jetting hazards, knowing how to protect oneself from them, and learning and practicing the proper safety procedures can greatly reduce the chances of disaster striking at unexpected moments.
COMMON JETTING HAZARDS
When water is pressurized to 4,000 PSI, it becomes a potentially deadly force that can easily result in serious injury when the water jet comes into contact with skin or eyes. The impact of a high pressure nozzle, leaky hose or being hit by contaminated waste can cause potentially life threatening injuries. When jetting is performed in confined spaces other OSHA rules for confined space entry and personal protective equipment must be followed.
DO NOT EVER PUT HANDS OR OTHER BODY PARTS OVER NOZZLE(S) WHEN UNDER PRESSURE!
PERSONAL PROTECTIVE EQUIPMENT (PPE)
Proper dress is also important when performing high-pressure water jetting. Coveralls should be worn. A heavy duty raincoat should also be worn to keep technicians dry and to help provide a barrier in the event there is contact with debris flying from the pipe.
Safety goggles should always be worn to protect the eyes from a high pressure jet of water. Water pressure above 2,000 PSI requires a full face shield, and at 4,000 PSI the water jet can literally tear an eyeball from its socket.
Heavy duty, waterproof gloves (insulated, if running hot water) are needed to protect the hands. Rubber boots with metatarsal guards are highly recommended. Hard hats are necessary in environments where falling objects are a potential hazard.
HAZARDOUS BACTERIA AND MATERIALS
Drains and sewer can carry bacteria and other infectious micro-organisms or materials which can cause death or severe illness. Avoid exposing eyes, nose, mouth, ears, hands and cuts and abrasions to wastewater or other potentially infectious materials during drain and sewer cleaning operations. To further help protect against exposure to infectious materials, wash hands, arms and other areas of the body, as needed, with hot, soapy water and, if necessary, flush mucous membranes with water. Also, disinfect potentially contaminated equipment by washing such surfaces with a hot soapy wash using a strong detergent.
GASOLINE IS EXTREMELY FLAMMABLE AND IS EXPLOSIVE UNDER CERTAIN CONDITIONS
Refuel in a well-ventilated area with the engine stopped. Do not smoke or allow flames or sparks in the area where the engine is refueled or where gasoline is stored. Do not overfill the fuel tank (there should be no fuel in the filler neck). After refueling, make sure the tank cap is closed properly and securely.
CARBON MONOXIDE DANGERS
Carbon monoxide exhaust and/or gasoline fumes from jetting equipment can create a hazardous atmosphere in confined spaces (which may include, but are not limited to, manholes and septic tanks), closed garages or other areas which may not be properly ventilated. In particular, excess gasoline fumes can create an explosion hazard. Such hazardous atmospheres can cause death or severe injury. Do not operate jetting equipment in any confined space or area with inadequate ventilation. Operate jetting equipment only when located outdoors or in an open, well ventilated area.
DO NOT EVER ENTER A GREASE TRAP WITHOUT HYDROGEN SULFIDE
AND METHANE GAS LEVEL INDICATOR
HOT WATER PRECAUTIONS
With the hot water on, it is highly recommended not to turn the water thermostat above 120° degrees to prevent possible burn/scalding type injury.
TRAILER SAFETY
Always remember to retighten and check all fasteners and lug nuts on a regular basis. Trailers create a lot of vibration and fasteners can come loose.
IT IS MANDATORY TO RETORQUE YOUR LUG NUTS TO 120 FT. LB. ON TRAILERS EVERY 50-100 MILES AFTER PURCHASE.
The following trailer pre-operation inspection checklist is a great tool for making sure trailers are properly prepared for hauling and road travel:
Check hitch chains – make sure the chains are properly attached to tow vehicle. Make sure they do NOT drag and are criss-crossed.

Check battery charge on break away battery.

Check tires and tire pressure.

Be sure the jack stand is up.

Check brakes lights, turn signal lights and running lights are operating properly.

Towing vehicle needs to be of adequate size and hauling capacity.

Bumper or Hitch is adequately rated and properly secured.

Pin & Clip securing insert into receiver

Make sure towing ball is the correct size

Ball is tight

Trailer brakes are working properly

Lugs nuts are tight (Recheck on a regular basis)

Re-check all fasteners and lug nuts periodically during use.

BEFORE towing – perform a complete trailer walk-around – looking for any loose parts, etc.
ENVIRONMENTAL RESPONSIBILITY
Equipment operators are responsible for the safe environmental operation of their equipment and potential cleaning discharges. Always remember to check with local codes and regulations in the operation of jetting equipment.
ALWAYS KEEP CHILDREN at a SAFE distance when using a JETTER SYSTEM.
HotJet Articles about Drain Line Jetter Safety
https://www.hotjetusa.com/wp-content/uploads/2023/09/HJ2-RedCutOut_July2022.jpg
823
1234
Kris Fluck
https://www.hotjetusa.com/wp-content/uploads/2017/08/Sewer-Jetters-Drain-Line-Cleaners-by-HotJet-USA.png
Kris Fluck
2023-09-19 06:36:39
2023-09-19 06:37:02
Trailer Safety 101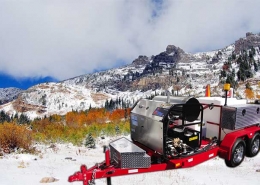 https://www.hotjetusa.com/wp-content/uploads/2015/11/winterizeyourjetter.jpg
428
640
Kris Fluck
https://www.hotjetusa.com/wp-content/uploads/2017/08/Sewer-Jetters-Drain-Line-Cleaners-by-HotJet-USA.png
Kris Fluck
2023-09-04 10:04:27
2023-09-19 14:02:14
Winterize Your Jetting Equipment
---
HotJet USA manufactures sewer jetter trailers and trailer mounted drain line jetters. For over 25 years, we've specialized in hydro jetters and diesel sewer jetters. We also specialize in hot water sewer jetter systems and have a new line of cart drain jetters and propane jetters. Call today for expert sewer jetter equipment advice!