Drain Line Additive – Total-C®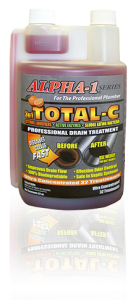 What is Total-C?
Jetter Additive
Drain Flow Maintenance
Odor Control
Offering your customers a drain additive to control odors and keep their drains flowing between regular scheduled jetting jobs pays off. These products are market proven in the toughest environments – from food processors, schools, hospitals and restaurants to apartments and homeowners.
Total-C is a water soluble formulation containing ingredients that produce a pleasant, fresh citrus scent which eliminate the source of odors and keeps your drains smelling fresh. A small amount goes a long way toward maintaining an odor free atmosphere that all will appreciate!
Total-C combines all natural citrus based liquefiers and active enzymes with natural oil eating bacteria to instantly emulsify grease, oils and fats without the use of harsh acids, alkaline or solvents.
Total-C is a professional drain maintaining product. For household drains, septic systems & commercial applications. It is an exclusive formula specifically designed to keep your drains flowing free and smelling fresh. It's the best way to keep clogs from reoccurring.
Fresh natural citrus odor
Keep drains free-flowing longer
Treats the whole pluming system
Concentrated, makes 32 treatments
Safe for the environment
No harsh, toxic chemicals
We can also private label with your company's name and address.
CALL FOR MORE INFO 1-800-213-3272
In addition to manufacturing sewer jetter trailers and trailer mounted drain line jetters, HotJet USA also formulates powerful drain line jetting detergents that will keep your drains clear. For over 25 years, we've specialized in hydro jetters and diesel sewer jetters. We specialize in hot water sewer jetter systems and have a new line of cart drain jetters and propane jetters. Call today for expert sewer jetter equipment advice!