PROFESSIONALS CHOOSE DRAIN LINE JETTING EQUIPMENT FROM HOTJET USA!
[metaslider id=299]
If you are looking to buy your first drain line sewer jetter system or you are a large plumbing / rooter contractor or municipality looking to buy your tenth . . . we can custom build you a professional sewer jetter system that is powerful, reasonably priced, and quality engineered for your application(s) and ship in days – not weeks with honest factory direct pricing!!
With our nearly 40 years in business and our lifetime commitment of support – we have shipped 100's and 100's of water blast / drain & sewer line jetter trailer units throughout the US and around the world. We are a small company offering personalized service with extremely competitive pricing. We include comprehensive service manuals, videos, and a complete marketing package for the rooter and plumbing industries with each drain line jetter to ensure your sewer jetting success!
PERSONALIZED SERVICE – QUALITY YOU CAN TRUST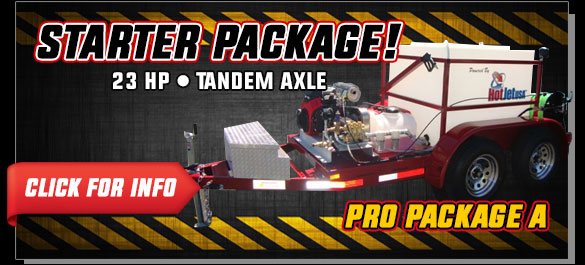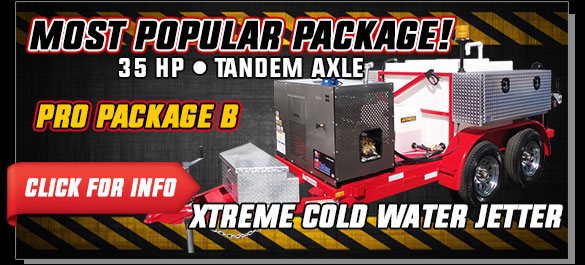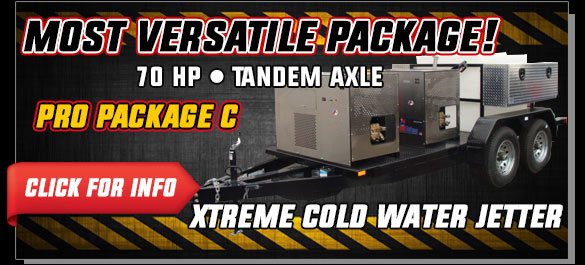 "Hot Jet" is the sewer jetter manufacturing division of Power Line Industries – we have been a Vendor / Partner of the PHCC (Plumbing, Heating, Cooling Contractors) and QSC (Quality Service Contractors) groups for over a decade! Power Line has over 30 years of experience in building drain line / sewer jetting equipment – our units are in service worldwide and we are a certified GSA contractor for the US Military.
Our goal is to fill a need for a reasonably priced, high quality drain and sewer line jetter that is custom tailored for your needs. In addition to trailer mounted jetters – we also build truck mount jetters, van mount jetters, skid jetters, complete enclosed trailer jetters, and customized hot and cold jetter systems engineered to your specifications.
WHAT OUR CUSTOMERS ARE SAYING
"I have ran every brand of jetter on the market in my 20 plus years of plumbing – Harben, US Jet, Spartan, General, name a brand – I have ran it all. When I decided to add jetting to my plumbing company I shopped and compared every brand on the market, I talked to literally dozens of other plumber/rooter guys who had purchased a jetter from HotJet USA. I found the quality of equipment, customer service and the overall package to be the best for my clients. I also felt hot water would give me the edge I needed.""My HotJet USA Jetter has turned into a time saving money making machine. It has cut my jetting job time in half."
Vinny Rouchi – Silver Star Plumbing
"I wanted to add an entry level trailer jetter to my rooter company that didn't cost an arm and a leg. I looked at the $30,000 and $40,000 units and couldn't justify it. I make money cleaning sewers not storm drains, so I did not need a monster machine or a glorified cart jetter on a trailer. After doing my homework, Hot Jet just made sense."
John – Rhino Rooter, Brigham City
WATCH OUR PACKAGE B UNIT BLAST OUT A MAJOR CLOG
TRAINING BUILDS CONFIDENCE – CONFIDENCE LEADS TO SUCCESS!!!
Any company can sell you a sewer jetter . . . .HOWEVER. . . . we have the complete package – quality equipment – training videos, safety review, and comprehensive marketing packages for the plumber and rooter companies.
We treat our customers as family and friends, not just another customer. WE ARE COMMITTED TO YOUR LONG-TERM JETTING PROGRAM SUCCESS!
We are a Certified GSA Vendor (Government Service Administration) Contract # GS-07f-0189W, and a preferred vendor of PHCC (Plumbing, Heating, Cooling Contractors), and QSC (Quality Service Contractors).
Give us a call and we will Fedex or Email a comprehensive jetter sewer cleaning manual with our DVD's to you with no obligation and answer any questions you may have about our trailer sewer drain line jetting equip!
We hope this Website helps in your buying decision – of course call or email any of us anytime with any questions.
THANKS FROM ALL OF US AT HOT JET USA!!!
---

HotJet USA is a manufacturer of sewer jetter trailers and trailer mounted drain line jetters. For over 25 years, we've specialized in hydro jetters and diesel sewer jetters. We specialize in hot water sewer jetter systems and have a new line of cart drain jetters and propane jetters. Call today for expert sewer jetter equipment advice!