Trailer Mounted Cold Water Sewer
&

Drain Line Jetter
$27,995.00*
Part No. XF1SA1038CW
35HP Vanguard by Toyota
10GPM @ 4,000 PSI
Drive Triple V-Belt
Trailer Size 4′ x 12′ Deck
Single Axle, Powder Coated
Axle Rating 1 x 3,500lb
Buy Now or Contact Us With Questions!
Single Axle Cold Water Xtreme Flow I
Pump
General Premium Emperor Series Pump – TSF Series
Triple Power V-Belt Driven
Dual Safety Adjustable Blow Off Valves and Pump Saver System
Dual Hose Pulsation Controls
Motor Description
35HP Vanguard (Manufactured by Toyota) Gas Engine
Low Engine Oil/High Temperature Auto Shutdown System
14 Gallon Fuel Tank
Rear Throttle Control
Hose & Hose Reels
300' of 3/8" Jetting hose rated @ 12,000 PSI Burst with 120° Thumb Control Guide Arm
Electric Hose Reel
Nozzles
1/2" – Lazer, Ram
3/8" – Lazer, Ram, Spinner and De-Greaser / De-Icer
Power Wash Nozzles Included
Safety Features
10' Safety Colored Leader Hose
1/2" and 3/8" "Stinger" Pipes Included
Rotary Safety / Beacon Light
Gloves, Eye Protection and Full Safety Operating Manuals included
Over PSI Safety Pop-off Valve
Trailer Description
Full Premium Powder Coat Epoxy
Rugged, Specially Engineered Trailer to Haul the Equipment and Water Load
Leaf Spring Axles Cushion and Distribute the Weight for Easy Towing
4'x12' Single Axle
General Specifications
200 Gallon Water Capacity
Moulded HDP Water Tank
Low Water "Shut Off" Feature
2" x 36" Tiger Tail Hose Protector
Adjustable Pressure Relief/Control Valve(s)
Rear LED Lighting
2" Fast Fill
Overall Dimensions
Overall Length 16' 6" incl. hitch
Deck Length 12'
Height 8' with safety light
Overall Deck Width 6'
Weight (Dry) 1,680 lbs
Weight (Full Load ) 3,420 lbs
INCLUDED ACCESSORIES
Diamond Plate Front Tool Box $475.00

INCLUDED!

300′ 3/8″ Premium Jet Hose $586.00

INCLUDED!

Complete 3/8″ Nozzle Kit $348.00 

INCLUDED!

5/8″ H.D. Fill Hose $110.00 

INCLUDED!

12 Gal. Detergent Tank $248.00 

INCLUDED!

12 Gal. Antifreeze Tank $248.00 

INCLUDED!

Power Wash Reel, 100′ Premium H.D. Hose and Spray Gun $496.00

 INCLUDED!

Rear LED Lighting 

INCLUDED!
INDUSTRIAL ENGINEERING
Dual Filter System Pre-Pump $226.00 

INCLUDED!

Pump Saver Bypass System $142.00 

INCLUDED!
Cold Water XtremeFlow Drain Line Jetter Line Up
HotJet's Xtreme Flow Drain Line Jetters are engineered for the Rooter and Plumber professional in mind. The cold water sewer and drain line jetters by HotJet USA are built to tackle the toughest blockages, are easy to operate and priced right – the unit will handle small lateral lines with the jumper hose assembly as well as larger lines up to 12″.
PLEASE NOTE:
*** PSI and GPM vary as per elevation, engine RPM and nozzle size. ***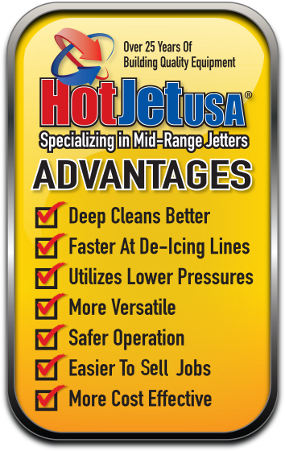 For current pricing & availability, please call us toll-free at 1-800-213-3272.